Coronavirus: COVID-19 OutBreak
The very first case of coronavirus was found in Wuhan, which is a city in China. This disease was recognized in 2019, and since then, it is spreading rapidly throughout the whole world. Approximately 170 countries have confirmed cases of coronavirus.
Coronavirus is highly contagious, and it is spread by having close contact with another person who is carrying the virus. It is not an emergency for any particular state or country, but according to the World Health Organization it is a global public health emergency.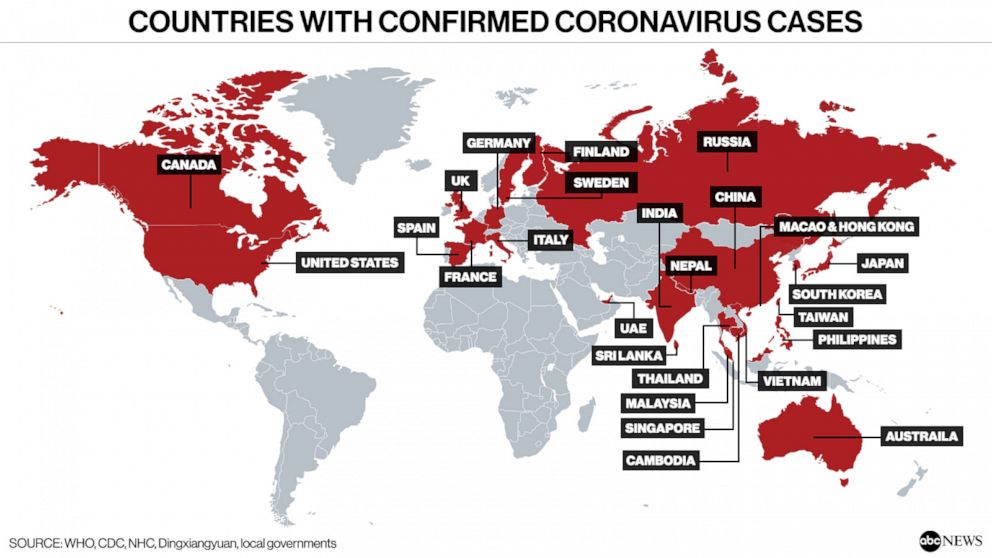 It is an infectious disease, and we should prevent it from spreading. Coronavirus is caused by a virus which contains SARS-CoV-2. SARS-CoV2 stands for Severe Acute Respiratory Syndromes coronavirus 2. This virus can live on a surface for about 72 hours. A person can experience the symptoms of the virus within 2 to 14 days or an average of 5 days. The most affected organ targeted by the coronavirus is the lungs.
Sscientists from around the world are doing their best to come up with vaccinations to treat coronavirus. The WHO (World Health Organization) is conducting several clinical trials to evaluate possible treatments.
This disease, COVID-19, mainly affects people whooo are above 60 years of age. Someone with medical issues, for example, diabetes, chronic respiratory, cardiovascular, and cancer-related diseases, are at higher risk with this virus.
Symptoms of Coronavirus:
The symptoms of COVID-19 vary from minor to severe. The time duration is 2 to 14 days for the virus to develop its symptoms properly. These symptoms can harm your organs and can lead to multi-organ failure from which you can die. The following are symptoms you will see in a coronavirus patient;
You will witness a fever of above 100°F.

Your body will suffer from fatigue, and you will not have enough energy.

A dry cough is also a major symptom of the disease.

Some of you might feel headaches and body pain.

A runny nose and sneezing are very common in coronavirus patients.

The virus enters your body through your throat, which is why you experience a sore throat.

As the coronavirus damages your organs, it will start damaging your stomach due to which you have diarrhea.

As the virus damages enzymes of your lungs, you will have shortness in your breath.
If you notice any of the above symptoms in yourself or anyone in your surroundings, you should consult your doctor or any other medical helpline immediately.
Necessary Precautions:
We all know that it is better to implement all the required precautions so that we can safeguard ourselves and others from coronavirus. By applying such precautions, we can control the virus from spreading, and also slow its spreading.
As it is stated above, there is no vaccination for coronavirus, but with precautionary measures, you can protect yourself. Below are some precautions that we all should apply in our routine so that the chances of the infection spreading amongst us may decrease;
Try to stay at your home unless you have an emergency, which requires you to go out of your house.

Avoid crowded places or gatherings. Prefer social distancing.

Every time you touch something or unintentionally make contact with an object physically, you must wash your hands. Before eating, wash your hands. Doctors tell us to wash our hands properly for at least 20 seconds.

You should prefer hygienic foods, and the environment around you should be clean.

You should not touch your face, eyes, nose, or mouth without cleaning your hands.

Before coughing or sneezing, make sure you keep your mouth covered with a tissue paper or wear a proper mask.

If you do not have a mask or tissue, you can use your elbow to cover your face.
The main reason behind social distancing is to stop the virus from spreading. You can also slow its infection from spreading by applying the above precautions in your life.
Number of Cases of Coronavirus:
The coronavirus is spreading globally, like wildfire. More than one hundred and ninety countries are facing a huge challenge. The most affected country was China, and they had more than eighty-one thousand cases of coronavirus.
Other than China, you can see countries like Italy, the United States of America, Spain, Germany, Iran, France, Switzerland, and South Korea have approximately more than ten thousand cases of coronavirus. These numbers are growing day by day due to people not caring or not taking it seriously.
However, experts and politicians have gathered to take all the essential preventive steps to save themselves and their countries.
Number of Deaths Due to Coronavirus:
The most number of deaths have occurred in China, and it is because it is the origin of coronavirus. The very first patient of coronavirus was discovered in the Wuhan city of China, and the total number of deaths in the same country is around three thousand two hundred and eighty-one.
The highest number of deaths due to coronavirus is six thousand eight hundred and twenty, which was in Italy. The number of deaths is increasing in other countries as well, and if they can do their part by keeping their surroundings clean, they can slow the spread of the virus.
Immune Yourself:
If you want to fight germs and viruses, your body requires a good immune system. A person with a better immune system has higher chance of surviving this virus. Having an excellent immune system does not mean you should disregard precautions of preventing the spread of coronavirus. This is because you can carry the virus with yourself, and it can cause harm to another person with lower immunity.
To keep your body's immunity sufficient, you need to follow the points mentioned below:
Sleep for at least eight hours a day. A proper sleeping pattern can boost your body's immune system.

Daily exercise is essential for your body, it will not only help you lose your weight, but it also comes along with many crucial benefits such as improving your immunity.

Fruits and vegetables are a good source of dietary fiber. Vitamins in them have the strength to increase your immunity.
Since we know that coronavirus is a disease that attacks the respiratory system,you can only protect yourself and your respiratory system if you have an excellent immune system.
Laboratory Tests of Coronavirus:
It is good news in such a stressful time that the United Kingdom has invented a kit that can help us test for the coronavirus while being at home.
As there are a large number of cases related to the virus, laboratories are quite busy. In underdeveloped countries, when you reach for a laboratory, you have to interact with crowds, and it increases the chance of spreading the virus. Having a kit to check yourself is a big advantage.
With the help of this kit, we can avoid necessary contact with people. In case your test comes back positive, we recommend you to stay at home and call for emergency help. By doing so, you can save yourself immediately and others as well.
WHO Update for Coronavirus:
Up till now, the WHO (World Health Organization) does not have any vaccination for the infection. According to WHO updates on 26th March 2020, the total number of coronavirus cases around the world is 489,399, out of which the number of deaths stands at 22,149, and the number of cases that have recovered is 117,608.
The WHO (World Health Organization) has provided all the necessary information about the virus. All the news media, social media, and entertainment media are sharing this information with people. To fight the virus, we must have an understanding of it.
The WHO is also helping other countries prepare so that the virus can be stopped. For this, they have been providing medical, technical, and other required expert support.
If you're interested in restoring and boosting your immune system, I suggest you check out our IMMUNE RENU supplement in our online store at LIFERENU.com/IMMUNERENU.